Vive-La-Rooney is the 13th episode in season 3 of Liv and Maddie. It aired on March 13, 2016.
Overview
When Liv needs to learn French for an upcoming interview, her mom decides to immerse her in the language and culture. Meanwhile, Maddie is thinking about dating again.
Episode Summary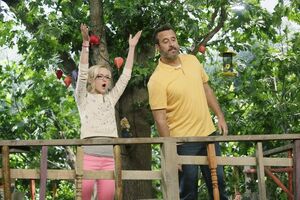 Pete comes home from his work at college and has a beard but his family doesn't notice. Meanwhile, Liv gets a call from one of France's most famous talk shows. She only seems interested in learning translations of a few questions. Karen, on the other hand urges her to try to learn French, convinced that her ability to do so is already within her subconscious, but Liv says she doesn't know anything. Meanwhile, her dad and Maddie are in the basketball court playing horse. Sadly, his dad loses and challenges Maddie to Treehouse Horse. This reveals the treehouse they used for this episode. While they are up the treehouse, Maddie asks her dad about boys. After their talk, Josh comes along noticing the beard Pete has and asks him a question about girls (aka Maddie). Pete gives him the idea to do what she likes, mentioning Treehouse Horse.
After failing to teach Liv to speak French through more conventional means, Karen transforms the Rooney kitchen into a typical Paris café, complete with chefs and an accordion player. Caught off guard by the effort, her mother decides to grab her into a rocking chair and rock her like a baby, singing "Alouette" to her as she did when she was a baby, which briefly triggers a flashback to her infancy when her mother did just that. After the flashback ends, Liv is surprised and excited to find she can sing along with her mother, then is almost overwhelmed by her newly discovered bilingual skills.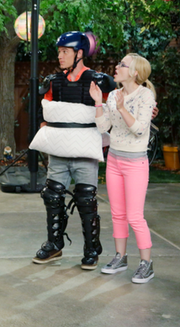 Maddie goes outside to see a note about playing treehouse horse and thinks its from her dad. She goes up to see Josh clinging on a tree. He tells her they should play some treehouse horse since its something she loves. Maddie questions Josh about why he's wanting to do this and he finally confesses his true feelings for her - saying he really likes her - and that he wants to date her. Maddie tells Josh she isn't sure if she is ready to start dating yet, which leads him to convince her to play a game of treehouse horse and Josh makes a bet with Maddie - that if he beats her, she has to go on a date with him. Maddie agrees on Josh's bet and after she wins, Josh starts to walk off and Maddie has a confessional where she asks "When did being vulnerable get so cute?" Maddie stops Josh from leaving and admits she likes him too. She has another confessional where she thinks she is ready to start dating again. Maddie asks Josh to go out with her, which he excitedly agrees on, since he has been waiting for her.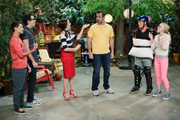 Karen and Pete come out to the back yard to see Josh and Maddie coming down from the treehouse. Josh thanks Pete for the girl advice, confirming his new relationship with Maddie, saying they're going on a date. Pete has a confessional, where he says, "Maddie's the girl? This beard betrayed me". Josh tells Pete that his beard is wise and everyone figures out the beard is what Pete was trying to get everyone to notice, ending the episode.
Cast
Main Cast
Recurring Cast
Guest cast
Rick Batalla as Mr. Prusko
Quotes
Pete: (in confessional) It's the beard.
Josh: Of course it's the beard!
Maddie: Josh?
Josh: (clinging onto a tree, scared) Hey Maddie.
Maddie: (chuckling) What-what-why are you up here?
Josh: To play some treehouse horse, cause that's what you love. (looks down to the ground) Even though I'm scared of heights, which I thought I could overcome, but we are way up here.
Maddie: (chuckling)Dude. Seriously? I mean, if you're afraid of heights lets just like get down
Josh (lets go of tree) No, no wait, no wait. This is something that you like to do, so...here I am.
Maddie: Josh, why are you doing this?
Josh: Because, I really like you, Maddie. And I wanna go out with you.
Maddie: (blushing) Josh, I don't know if I'm ready to go out with anybody yet.
Josh: Okay. Well, that also means you don't know if you're not ready.
Maddie: (giggles) Guess that's technically true.
Josh: How about we play a game of Treehouse Horse? If I win, you agree to go out with me, on a date.
Maddie: (looks down, chuckles) Okay, deal.
Maddie: Josh, will you go out with me?
Josh: Yes!
Trivia
This is the only episode that doesn't contain "A-Rooney" in the title.
It's revealed Josh is terrified of heights, but he tries to get over them for Maddie.
Alex returns from her seven-episode absence.
Pete makes an appearance since Ridgewood-A-Rooney.
Josh and Maddie become a couple.
This episode is the 13th episode of season 3, and it aired on March 13, 2016.
Dove Cameron can actually speak fluent French in real life, so this episode was a way of showcasing that.
Kali Rocha, who portrays Karen Rooney, co-wrote this episode.
This episode reached 1.932 viewers, currently being the highest rated episode of the season.[1]
Although Voltage isn't actually shown in this episode, Josh is holding a script for the show.
This episode aired on October 11, 2016 in the UK.
It's shown in this episode that Pete likes Josh, despite him being overprotective of Maddie when it comes to guys. Although, it's likely Pete knows Josh wouldn't hurt Maddie in any way.
This is the only episode in the series where Josh appears and he doesn't have a scene with Liv.
Goofs
Pete is home on weekends but Parker and Joey are at school in this episode.
When Maddie has the confessional about josh's vulnerability cute, and when she says "I just need some advice, and I would definitely go to mom" to Pete, she sounds like Liv.
Gallery
| | |
| --- | --- |
| | To view the Vive-La-Rooney gallery, click here. |
References
Video Gallery