Sing It Loud!

A fan poster based on "Sing It Loud!" from the show

Cast

Liv Rooney
Bree DuMont
South Salamanca

Genre

Musical, comedy-drama

Followed By

Filmed

Los Angeles
Sing It Loud! is a fictional TV show mentioned in Liv and Maddie several times. Liv starred in it and spent four years in Hollywood filming it. She played a character named Stephanie Einstein, who was the main character of the show.
To see more fictional movies and TV shows, see Fictional Filmography.
Plot
Based on Sing It Louder!!-A-Rooney, the plot of this show highly suggests Stephanie Einstein broke a law and was caught, which resulted in her being sent to a therapeutic boarding school to help her become a model citizen. At the series finale, she graduated and was allowed to return home.
Featured Songs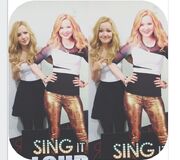 Trivia
The show ends with Liv and her class graduating.
Sing it Loud! has been mentioned in several episodes, such as Twin-A-Rooney and Skate-A-Rooney.
Liv once found a Sing It Loud! DVD in a ditch. (Dodge-A-Rooney)
Liv left for Hollywood to film the show when she was only 11 years old. (Flashback-A-Rooney)
This was the first show Liv stared in, the second being Voltage. and the third being Sing It Louder!!
It had 4 seasons, which is the same maximum amount of seasons a Disney Channel show has, including Liv and Maddie.
Kathy Kan stars as Stephanie Einstein in the Korean version of Sing It Loud! (Korean: 큰소리로 부르세요!)
Based on the fact the show revolved around a boarding school, it is likely Bree DuMont was not a part of the main cast.
An episode was called Race It Loud.
Cast
Liv Rooney as Stephanie Einstein
South Salamanca as Stephanie's best friend
Bree DuMont as Alberta Einstein
Unknown as Gunther
Gallery
| | |
| --- | --- |
| | To view the Sing It Loud! gallery, click here. |