Welcome!
Welcome to the official Liv and Maddie Wiki, a collaborative encyclopedia for everything and anything related to the all new Disney Channel original series, Liv and Maddie, starring Dove Cameron.
Today is the 29th of August and currently there are 35,968 edits to this wiki.

Liv and Maddie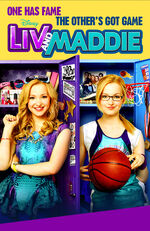 The sitcom introduces identical twins
Liv
, a popular television star whose hit show has just finished its run, and
Maddie
, an outstanding student and school basketball phenomenon whose popularity is on the rise… that is until Liv makes a triumphant return to their Wisconsin high school. Complicating their teenage life even more is that their parents both work at their school.
The series, created and executive-produced by John D. Beck ("Shake it Up") and Ron Hart, began production in April for a fall 2013 premiere. Andy Fickman, John Peaslee and Betsy Sullenger are also executive producers on the series, and Fickman also directed episodes for the series as well..

The series stars Disney newcomer
Dove Cameron
as both Liv and Maddie Rooney. The series also stars stand-up comedian
Joey Bragg
and
Tenzing Norgay Trainor
as the younger brothers,
Benjamin King
as their dad, a basketball coach, and
Kali Rocha
as their mom, a school psychologist. The series produced through by
Disney Channel
and
It's a Laugh Productions
.

Polls
Who's Your Favorite Reccuring Character ?
Which Rooney parent is your favorite?

Did You Know?
...that Dove Cameron had to take basketball training with a coach to prepare for the role of Maddie?
...that Tenzing Norgay Trainor appeared on an episode of The Jadagrace Show?
...that Dove Cameron is the third Disney Channel star to lead in a show since 2010 that has NOT guest starred or made an appearance on another Disney Channel Show? Before her was Ross Lynch and Laura Marano.
...that Dove Cameron starred in an upcoming Disney Channel Original Movie, Cloud 9?
...that Joey Bragg starred alongside actor and internet sensation Lucas Cruikshank in Nickelodeon movie Fred 3: Camp Fred?
...that is takes 3 different girls to make Dove Cameron look like twins?
...when Liv and Maddie was a pilot, it was originally titled Bits & Pieces and had a very different plot? The entire cast of Liv and Maddie starred in it, with the addition of Cozi Zuehlsdorff, playing a family!
...that Dove Cameron portrays two characters in Liv and Maddie?
...that Tenzing Norgay Trainor's grandfather, Tenzing Trainor I, along with Sir Edmund Hillary were the first people to climb Mt. Everest?
... that Joey Bragg is playing a character that has the same first name as him?
...that Dove Cameron is from Seattle, Washington?
...that Dove Cameron sung a song for the third season of the Disney Channel series, Shake It Up!, called "Future Sounds Like Us"?
...that Liv's real name is Olivia?
...that Maddie's real name is Madison?
...Liv and Maddie pretended to be each other at the age of 6?
...that the Liv and Maddie theme song, "Better in Stereo," has two versions and there is a music video for one of them?
...Dove Cameron and Ryan McCartan are dating in real life?
...Dove Cameron turned 18 two days before the premiere of Cloud 9? (January 15, 2014)
... that Tenzing Norgay Trainor guest starred on Nickolodeon's Big Time Rush?
... that Dove Cameron will be starring in the highly anticipated Disney Channel Original Movie, Descendants, as Mal?
... that Laura Marano guest stared in the episode Howl-A-Rooney as Emmy 'Fangs' Wulfurt?
... that Laura Marano's character, Emmy Wulfurt, is a cobined named of Laura's two look-a-likes, Emmy Buckner and Shelby Wulfert?
... that the two characters who played the young Liv and Maddie are twin sisters in real life?
... that Piper Curda is going to guest star in Season 2 in the episode Kathy Kan-A-Rooney as Kathy Kan?
... that Stevens Point, Wisconsin is a real city? (See this link.)
... that Joey Bragg's real life girlfriend is Audrey Whitby, and she will have a guest appearance on the upcoming episode Neighbors-A-Rooney?
...that Tenzing Norgay Trainor starred on an episode of the Disney channel original series Good look Charlie?

Help Out
To add more Did You Know, click here.
To upload a picture, click here
To write a blog, click here
To write a new article, just enter the title in the box below.

Disney Channel