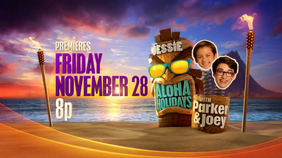 Jessie's Aloha Holidays with Parker and Joey
is an episode of Jessie with a special appearance by
Parker Rooney
and
Joey Rooney
.
Plot
Jessie and the Ross kids plan a tropical Christmas at their Hawaiian villa where Jessie reunites with old friend and superstar, Shaylee Michaels. While there, they meet Parker Rooney and Joey Rooney, who are on vacation with the rest of the Rooney family, both of which get in major misadventures with the Ross kids.
Cast
Jessie
Liv & Maddie
Guest Cast
Amy Hill as Keahi
Wayne Wilderson as Kevin Randolf
Trivia
The original title was, "Jessie, Liv and Maddie's Hawaiian Christmas Cross-A-Rooney".
This is the season 3 finale of JESSIE.
This episode is a 1-hour special.
This episode is themed for a vacation in Hawaii.
This is the only Liv and Maddie crossover special.
Maia Mitchell, who portrayed Shaylee Michaels on JESSIE, returned in this episode.
Dove Cameron and Cameron Boyce were filming Descendants at the same time this episode was being shot.
Teen Beach Zombie Hunters is a reference to the DCOM Teen Beach Movie.
Unlike other crossovers, the theme song didn't combine with Jessie & Liv and Maddie.
The Rooneys are mentioned by Shaylee.
Joey mentions events from Kathy Kan-A-Rooney when Maddie taught him how to play basketball.
The first promo of the then new Disney Channel Original Series K.C Undercover was seen during this episode.
A promo of the new DCOM Bad Hair Day was seen during this episode.
The first promo/sneak peak of the new DCOM Teen Beach Movie 2 was seen during this episode.
The majority of this episode takes place in Hawaii.
Bertram doesn't appear in New York in this episode.
Jessie and Shaylee end their friendship, but renew it later.
This is the first time Luke fails to prank someone.
Goofs
Bertram, Zuri, Parker, Emma, Ravi, and Joey could have burned up or possibly died from being that close to a volcano.
International premieres
December 5, 2014 (Canada)
December 12, 2014 (UK & Ireland, Scandinavia)
December 21, 2014 (Latin America & Brazil)
December 25, 2014 (Australia)
December 26, 2014 (Spain & Portugal)
External links