Dream-A-Rooney is the 14th episode in season 3 of Liv and Maddie. It premiered on March 20, 2016.
Overview
"Voltage" is taking up all of Liv's time, but when The Dream is asked to reunite for a fundraiser, Liv is determined to make it happen. Meanwhile, Maddie tries to figure out where to go to college.
Episode Summary
TBA
Cast
Main Cast
Recurring Cast
Mentioned Cast
Guest Cast
Quotes
Maddie:
Hey dad. Can I talk to you for a second? It's not about college or basketball or anything. It's actually, it's about, um... a cow.
Pete:
Nothing in the rules against talking about a cow.
Maddie: Right, so, so there's this... cow, uh, and she's trying to choose a... meadow, um, and, and, you know, there are a lot of really... great meadows, but there's only one that's making her feel... excited.
Pete: Okay, so, so what's this cow... like about this particular... m-meadow?
Maddie: Well, there's this farmer there who taught her how to eat grass when she was a calf, um, and... the problem is, she just, she can't tell if she likes the meadow because she loves her farmer... or, you know, because it's the right meadow for her.
Pete: Well, you should tell your... cow... as long as you give each meadow serious consideration the emotional choice can still be the right choice.

Pete:
Also... tell that cow, no matter what, the farmer's always gonna love her, and support whatever decision she makes.
Trivia
Key of Life is The Dream's new song.
Artie returns from his three-episode absence.
Aubrey returns from her seven-episode absence.
Maddie tries to choose from 6 colleges in this episode, one of which is where her father coaches.
Willow accidentally reveals to Andie the real reason why Holden broke up with her
Laura Marano makes a cameo appearance at the beginning of the episode as one of the students at Ridgewood High.
This episode aired on October 12, 2016 in the UK.
Gallery
| | |
| --- | --- |
| | To view the Dream-A-Rooney gallery, click here. |
Videos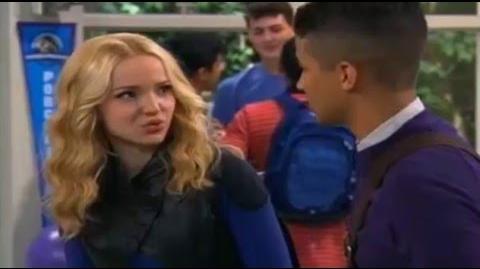 Ad blocker interference detected!
Wikia is a free-to-use site that makes money from advertising. We have a modified experience for viewers using ad blockers

Wikia is not accessible if you've made further modifications. Remove the custom ad blocker rule(s) and the page will load as expected.