"
I love her to death, there's a lot of love there. Ya know, she made a decision that because I love her, I have to respect and ya know....she was there for me when we were filming this movie, we were still together so I hope she's feeling this energy right now, because it's all happening, here we are.
"
Dove and Ryan

Information
Cast
Status

Broken Up

Pairing name

Rove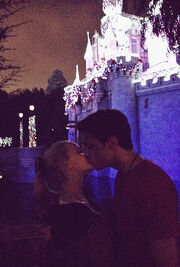 Dove Cameron and Ryan McCartan star together on the Disney show, Liv and Maddie as Diggie, Liv and Maddie Rooney, respectively. On April 14, 2016, the two got engaged[2][3] but they called off their engagement on October 2, 2016 and Ryan confirmed on the 5th that they had split up[4] They also were in a band together: The Girl and the Dreamcatcher. Ryan has said he is making solo music, therefore it appears the band is no more.[5]
Relationship
When Ryan was auditioning for the role of Diggie Smalls, Dove and Ryan weren't too fond of one another. Dove didn't want to audition with Ryan because he kept glaring at her and giving everyone dirty looks. When they went into the audition room and did the scene everything changed. Ryan took Dove's hand and looked deep into her eyes and suddenly they were both super into each other!
Sometime later, the pair went on their first date. He took her out to dinner, frozen yogurt, and they went to this place in Hollywood called Bourgeois Pig and got some cider. He also took her to the Hollywood Hills. The pair began dating August 6, 2013.
On September 2015, The pair announced that their band was to be called the Girl and The Dreamcatcher and a release date of their single Written In the Stars. Before the end of 2015 they also released two Christmas covers: "Have Yourself a Marry Little Christmas" and "All I Want For Christmas is You." Along with music videos for those.
Pretty soon they released "Glowing in the Dark" and "Someone You Like." Two more original songs.
April 14, 2016 Ryan dedicated his 1,000th post to his fiancé, announcing on Instagram that he and Dove were engaged. "Dedicating my 1,000th post to my fiancée. I can't believe I get to call you that. Thanks for saying yes,"
Dove also posted a photo of them together announcing / confirming their engagement, saying "calling you my "boyfriend" never really felt right anyway. fiancée looks better on you".
On October 2nd, 2016, Ryan unfollowed Dove on Instagram and Twitter, as well as unfollowing her mother, Bonnie, on Instagram. Both Dove and Ryan removed their "The Girl and The Dreamcatcher" references from their Twitter and Instagram bios. They were rumored to have broken up and on October 5, 2016, Ryan confirmed that they had.[6] On February 6, 2017, Just Jared confirmed that Dove has said that Ryan was terrible to her in their relationship and she is happy their relationship is over.[7]
Other Names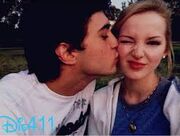 Rove (R/yan and D/ove)
Dyan (D/ove and R/yan)
Ryve (Ry/an and Do/ve)
Doan (Do/ve and Ry/an)
Moments
Ryan tweeted that they were both too busy kissing to tweet on Twitter.[8]

Fellow Liv and Maddie co-star Joey Bragg responded to the tweet, tweeting, "Gross."[9]

They both follow each other on Twitter.
Ryan tweeted that he thought he and Dove were "meant to be."[10]
They tweeted each other frequently.
They both won a pink Hello Kitty blanket.[11]
On November 8, 2013, they went to Disneyland together.

When they were at Disneyland, they posted a photo of themselves kissing in front of the Disneyland castle.[12]
They often referred to their relationship as Flynn and Rapunzel's from Tangled.
They wrote a song together called I Believe in You.[13]
Ryan and Dove went to the Cloud 9 premiere together.[14]
They made brunch together.[15]
Ryan wished Dove a happy birthday on January 15, 2014.[18]
Dove once said this in an interview; "he's my co-star, which is a massive Hollywood no-no. So, as you could imagine, it was a rocky transition. But, half a year later, we couldn't be happier together."
They both guest-starred on Austin & Ally, but instead portrayed brother and sister.
In an interview, they both described each other as perfect. [19]
They started a band together, called The girl and the Dreamcatcher.
They made a video of them covering "All About That Bass" by Meghan Trainor together. At the end of the video, they kiss each other on the lips several times.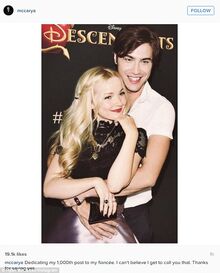 Around the release of Space-Werewolf-A-Rooney, Dove claimed she "Blushed real hard" when they filmed the scene where Ryan carried her through the Rooney family front door.[20]
They made another video of them covering "At Last I See The Light" from Tangled.
At the end of the video, they fist bump each other.
Ryan then held up his hand for a high-five, and when Dove tried to high-five him, he tickled her stomach.
He then kissed her on the cheek.
They first met each other on April 3.
Their anniversary is on August 6.
They wore promise rings.
They had their first kiss together at a park. Ryan was playing his guitar and Dove leaned in to kiss him on the cheek but he turned his head.[21]
They had a YouTube channel together and cover songs.[22]

They wrote an original song called ' Written in the stars '. It is up on their channel.
Together they have two cats, Peanut Butter ( Black |female) Cheesecake ( Grey | male)
Ryan announced his engagement to Dove on April 14, 2016 and she said yes.[23]
Ryan said on twitter, "My fiancée is fierce. So proud and not all surprised" about Dove staring in Descendants. Dove then replied, "I love you!! :)))".
The Girl and The Dreamcatcher, which is their band, released a new song; Make you Stay exclusively on June 14th, 2016. [24]
The Girl and The Dreamcatcher annouced that their anticipated EP Negatives would be release July 29th and pre order information would soon be released.
They made a video, convincing fans to subscribe to their YouTube channel together, and Ryan kissed Dove's cheek.[25]
They performed on Young Hollywood together on July 12th, 2016, performing Make You Stay.[26]
In January 2016, they released a new song called Glowing in the Dark.
After his split with Dove, Ryan admitted it was painful.
After Dove and Ryan broke up, she said there was still a lot of love between them.[27]
They lived together in Dove's apartment until Dove moved out in October 2016.
Ryan revealed he and Dove still text each other and that their relationship ended cordially. Ryan then said that their break up "sucks" and "It's really hard. I still love her very much, but C'est la vie. That's just kind of how it goes. Time heals everything." Ryan also said he thought it would work out with him and Dove and that they would be together forever, but it unfortunately didn't.[28]
Ryan talked about his split with Dove during an interview and said, "I love her to death, there's a lot of love there. Ya know, she made a decision that because I love her, I have to respect and ya know....she was there for me when we were filming this movie, we were still together so I hope she's feeling this energy right now, because it's all happening, here we are." The interviewer then asked if Ryan and Dove were still friends and he said, "Absolutely".[29]
Ryan said he still loved Dove.[30]
Gallery
| | |
| --- | --- |
| | To view the Dove and Ryan (relationship) gallery, click here. |
References