Confessionals

The Rooney kids in confessionals in season 4.

First Appearance

Last Appearance
Confessionals occur during a scene in every episode. A character says how he, she or they feel during or after a or scene. There isn't a special or specific room for a confessional, but they normally take place in the Rooney house. The Rooney Family gives confessionals most of the time, but sometimes recurring characters have them as well.
In End-A-Rooney, it is revealed that all of the confessionals throughout the series have been for a reality show in Luxembourg titled Bits and Pieces, a reference to Liv and Maddie's original title.
Details
Known Confessors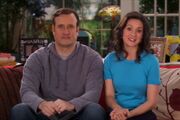 Trivia
Confessionals on Liv and Maddie are similar to Total Drama, a Canadian cartoon show. They are also frequently used on reality shows.
Confessionals were also used in Disney XD's Zeke & Luther.
Confessionals are also featured on Modern Family.
Not all of the main characters will have a confessional in an episode.
There can be more than one person in a room during a confessional.
The characters can have their confessionals while sitting or standing.
Confessionals usually have a character from the previous or current scene.
Confessionals are mainly about a character's thoughts, but said out loud.
Gallery
| | |
| --- | --- |
| | To view the Confessionals gallery, click here. |